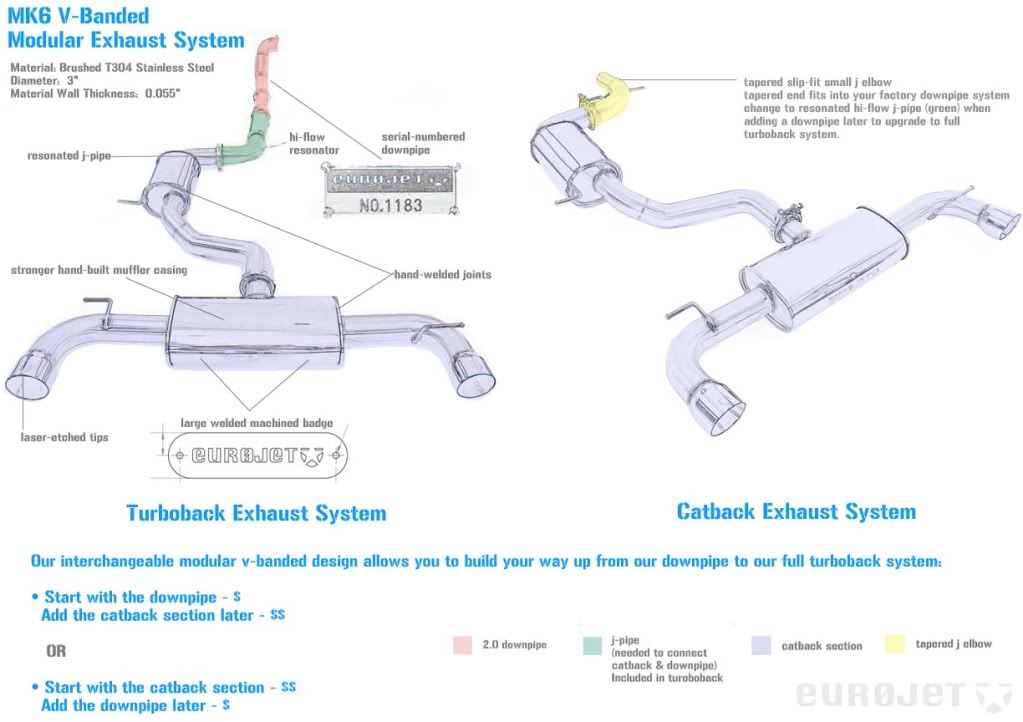 When it comes to exhausts, we're simply the best in the business.  We  are  the  OG's, many have copied our designs. That's a bold statement, but we back it up with better designs, stronger welds and materials, and smarter engineering. Go ahead and compare, we'll be here when you come back.
Eurojet™ exhausts are modular—meaning that you can pick and choose which components fit your needs and your budget. No matter what you choose—a downpipe, a catback, or a full turboback—the parts are precisely engineered to easily fit together without additional welding or custom parts. Just a simple turn of the wrench and you're done.
Our Gen2 exhausts include even more features that improve sound quality, exhaust flow, and overall reliability. Note that our Gen2 exhaust products may require minor modifications for compatibility with Gen1 systems. 
Our exhausts consist of the following modular parts: 
Downpipe System—Connects to original equipment manufacturer (OEM) catback exhausts. Optional 200-cell metallic race catalytic converter (removable in MK5 and MK6 models). Downpipes offered: MK4, MK5/MK6 (Gen2)
Catback Exhaust System—Our lineup of handcrafted V-banded catback exhausts provide aggressive performance gains for the street and the track. Catback exhausts offered: MK4 GTI, MK4 Jetta/GLI, MK5 GTI (Gen2), MK5 GLI (Gen2), MK6 GTI (Gen2)
Turboback Exhaust System—Our turboback exhausts combine the downpipe and catback for a complete, integrated exhaust system. Optional 200-cell metallic race catalytic converter (removable in MK5 and MK6 models).  Turboback exhausts offered: MK4 GTI, MK4 Jetta/GLI, MK5 GTI (Gen2), MK5 GLI (Gen2), MK6 GTI (Gen2)
Each system is designed in 3D CAD to ensure exactness with each bend. That means each bend is precise, hangers line up, and your exhaust fits right the first time. Once the pipe is bent and pulled from the mandrels, we line up each pipe and weld the flanges and pieces together on model specific jigs and molds. This guarantees exactness with each and every system and promises high-quality performance through design and precision.
We design all of our mufflers to manipulate and create the right exhaust harmonics so that you're turning heads on the street and the track for all the right reasons. With our proprietary chamber designs and muffler technology, we're able to turn your exhaust system into an aggressive beast without waking up the neighbors or getting any other unwanted attention, while putting down the power you demand from a performance exhaust. 
For more technical information, see the MK6 Gen2 Exhaust System White Paper.
Many Eurojet related products are sold for off-road use only. All performance modifications and installations are at the customers own risk. Eurojet holds no responsibility either implied or otherwise for mechanical, electrical or other failure when using any aftermarket performance products. Items sold for off-road use only are illegal in many states and provinces and are intended for racing vehicles which may never be used on a public road.
By purchasing any aftermarket performance product, the customer takes full responsibility for any use, and/or misuse of the product and agrees that Eurojet  holds no responsibility for any consequences, legal, or other, of such use and/or misuse.
Questions? We have Answers...