EUROJET EJ702-E20-03-00 | MK7 GTI 2.0T DOWN-PIPE (CAT-LESS)
Description
Eurojet Downpipe Upgrade (Cat-less)
Increased power, flow & engine note
OVERVIEW
The new Eurojet MQB downpipe represents everything we here at EJ are best at. Throughout months of R&D; prototypes were fit, street/track tested, modified and fit again until every part of the downpipe was up to EJ's highest standards. The brushed finish, hand MIG welded joints and fully v-banded modular design are industry-leading hallmarks typical of a Revo product.
The Eurojet downpipe was designed in-house at our US HQ and manufactured using the highest grade T304 stainless steel. A state of the art CAD-CAM-CNC mandrel bender and precise welding jigs are used in the production process to reproduce exact prototype angles & weld areas for excellent, repeatable fitment and maximum gas flow.
BENEFITS
T304 stainless steel construction
Maximizes exhaust flow/Minimizes back pressure
Made in the USA
3″ Diameter
0.065″ wall thickness
SPECIFICATIONS
Limited Lifetime guarantee free from material or manufacturer's defect
Developed, refined and manufactured in the USA
3 piece modular V-band design with specific adjustment points for perfect bracket-chassis mount fitment
Sleeved flex section to stop swell and maintain the same inner diameter in all conditions
V-band pilots self-align and seal to promote exhaust flow and stop joint sweat
CNC'd turbo flange from solid T304 round to +/- 0.005" tolerance for perfect turbo fitment
T304 V-band flanges and 0.065" wall tubing for uniform expansion/contraction, eliminating joint and bracket stress under load
One-off, robust chassis bracket design with support ear to guarantee bracket life, unlike welded bar-stock or flat sheet metal brackets
Optional top mounted, 200 cell catalytic converter heats faster and stays hot longer to further reduce noise/odor versus lower mounted designs
Catalytic converter / test pipe sections can be changed from the top of the engine bay
All necessary industry leading Clampco clamps included
Images are for illustration purposes only.
**Offroad use only
Reviews (0)
There are no reviews yet.
Related Products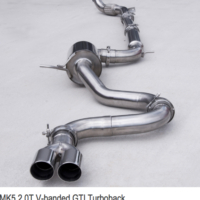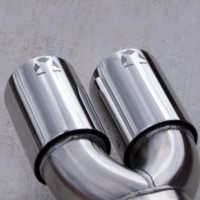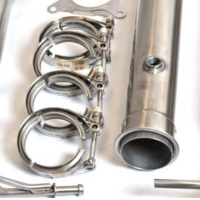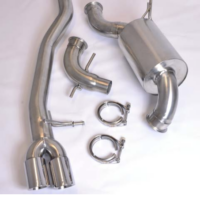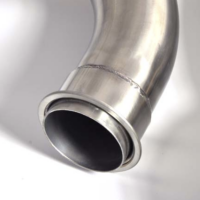 EUROJET EJ511-E30-01-01 | MK5 2.0T V-BANDED GTI TURBOBACK EXHAUST SYSTEM
Exhaust $1,095.00 – $1,289.00 Choose Options